Eating is not the only way to celebrate our love for food. We talk about food, we learn how to cook them. And yes, we make it permanent on our skin. If you are a foodie, these delicious food tattoos that will make you drool.
1. Coca Cola tattoo – These cute coke bottle tattoos are perfect for those who are looking for small, dainty ink.
2. Your empanadas are served – Who doesn't love empanadas loaded with tender meat with crispy wraps?
3. Shin spicy ramen tattoo – Smooth and chewy noodles with a spicy kick, Shin ramen is addictive. This food tattoo captures the essence of it.
 4. Super cute matching tattoos – If you love your Significant Other as much as Homer loves donuts, this couple tattoo will honor your relationship.
5. White rabbit candy tattoo – White rabbit candy is an iconic treat in China. Most kids in the 80s and 90s grow up eating this creamy goodness.
6. Takoyaki tattoo – You may not know Takoyaki, but you have definitely heard of Japanese octopus balls.
7. Mars chocolate bar tattoo 
8. Spoon and fork tattoo for foodies 
9. A mouth-watering donut cupcake tattoo
10. When in doubt, coffee 
11. A cookie tattoo 
12. A small coconut wrist tattoo 
13. A skating vegan hotdog 
14. A small ice cream tattoo 
15. Strawberry jello pudding that is as sweet as you are 
16. Matching avocado tattoos for best friends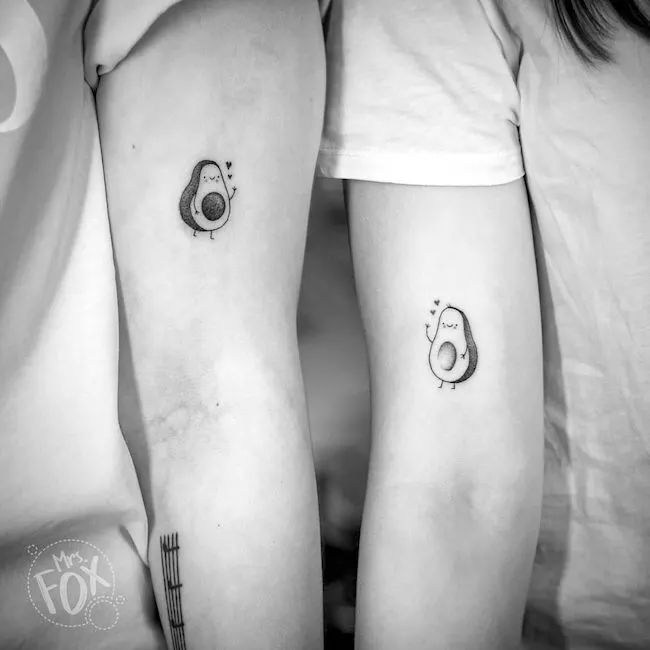 17. Oasis soda pop tattoo 
18. A slice of macaroni and cheese pizza for foodies 
19. A peachy shoulder tattoo 
20. Strawberry cheesecake tattoo 
21. A sleek ramen tattoo on the inner arm 
22. Diet coke tattoo for the sugar 
23. Spaghetti Tattoo 
24. A dainty sunny-side-up egg tattoo 
25. A bowl of satisfaction – pork ramen tattoo 
26. A glass of wine tattoo 
27. A tiny realism dragon fruit 
28. Creative banana tattoo 
29. A cute salmon sushi tattoo 
30. White rabbit candy tattoo that brings you back to childhood